An unexpectedly-powerful squall line moved through the region between 11pm-2am last night, causing a good number of wind reports and a possible tornado near Baltimore, MD. The few people that I have discussed the Baltimore storm with who live in the area believe it was more likely straight-line winds or a micro-burst. Trees down across power lines and roads made the morning commute troublesome for some in VA and MD today.
Here is a link reporting on the possible Balitmore tornado: Severe storm damages dozens of homes in [Baltimore], Parkville area
As of 7am, more than 22,000 customers were without power in northern VA, MD and Delmarva, according to estimates totaled from four local and regional power companies.
More updates on the severe weather as reports and images/video come in.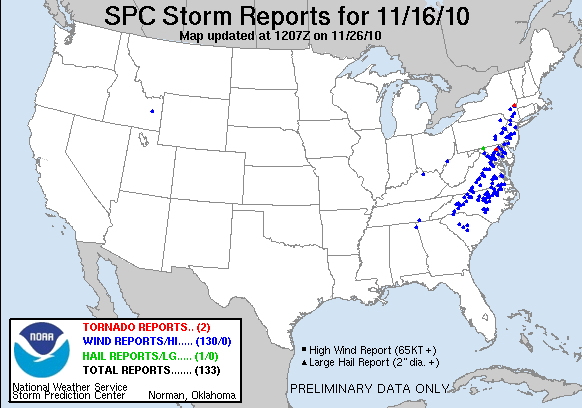 _____
UPDATE: 1:00 PM ET
Damage pictures, via WBAL: http://www.wbaltv.com/slideshow/weather/25822631/detail.html
Videos, again via WBAL: http://www.wbaltv.com/r/25822434/detail.html
_____
UPDATE: 4:00 PM ET
From the Baltimore Sun: Photo Gallery of Baltimore damage